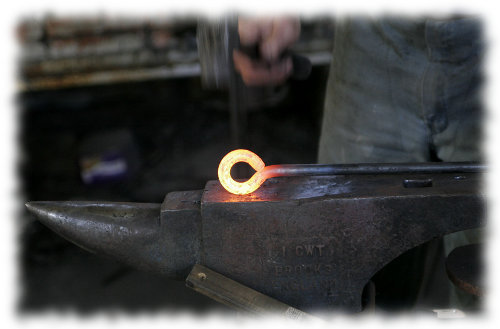 Since 1986 WroughtWorks.com, the Real Wrought Iron Company has provided genuine wrought iron wall art, wrought iron gates, wrought iron furniture, wrought iron spiral staircase, wrought iron rails, wrought iron tables, wrought iron fences, wrought iron beds, wrought iron racks, wrought iron garden items, wrought iron stands and custom wrought iron products created for your particular requirements. We specialize in production of wrought iron products for the purposes of restoration and can match many existing sections.
Wrought iron is the traditional material of blacksmiths. Depending on the origin of iron ore and iron manufacturing, wrought iron can resists corrosion better than modern steel, as is shown by the survival of much of our heritage of wrought ironwork, in many cases, centuries old.
WroughtWorks Ironworks is a creator of custom high quality, hand-forged iron products for the hearth, home, as well as for many service-oriented establishments such as hotels and bed & breakfasts across America. We think you will be very happy with the unlimited possibilities of custom wrought iron products offered by WroughtWorks. We can satisfy most any request, and we offer the flexibility to make changes to any of our existing items, as well as to create pieces that are unique and specially designed to meet your particular needs. Our designers will work with you to come up with the perfect piece to enhance the special spaces inside or outside your home.
Each WroughtWorks wrought iron product is hand-forged by our American blacksmith artists committed to their craft, who value a simpler way of life here in the Northern Woods of Maine. At our forge, you won't find our blacksmiths using an assembly-line. Our highly-skilled blacksmiths fabricate each piece individually; from the initial heating of the metal, to the last application of our hand-applied protective finish. Utilizing the same forging methods that were used in the past, twenty-five years ago, WroughtWorks began to revitalize blacksmithing which was close to becoming a lost art. The same tools and equipment that were used during the 1800's by blacksmiths to fabricate wrought iron products by hand, are still part of the process of how our products are made today. Because every WroughtWorks' piece is made individually, you will find that although they are matching, no two look exactly alike. Our wrought iron products are popular with those who value the quality, durability and style of solidly made items, which possess character that can only be found in things made using the same, pure, old-fashioned blacksmithing methods of yesterday.
When we founded WroughtWorks twenty-five years ago, a philosophy of design, quality and excellence was born that still exists and is evident in every piece we make, from our smallest hook to our largest gate. We offer effective, timely service and our friendly staff will assist you in all aspects of your experience with us; from the design, creation and ordering, to the shipment of your items and long after you receive your order. We think we will be able to make you very happy!
At WroughtWorks you will find a large diversity of traditional as well as newer styles of ornamental iron… the possibilities are endless, and are only limited by your imagination. If you are looking to re-create something from Nature or in the style of Colonial, Mission, Country, Southwestern, Contemporary or Abstract; we will help you create the design you would like. If what your looking for isn't on our WroughtWorks site, just ask…often times we are able to fabricate it to your specifications.
Our desire at WroughtWorks is to deliver to you exactly what you are looking for in every piece we make. WroughtWorks provides the highest quality products with ultimate value & unparalleled service. We are looking forward to helping you find your perfect design and our family-oriented staff is committed to serving you as our customer and keep you wanting to come back.