How To Show You Care With Custom Personalized Products
How To Show You Care With Custom Personalized Products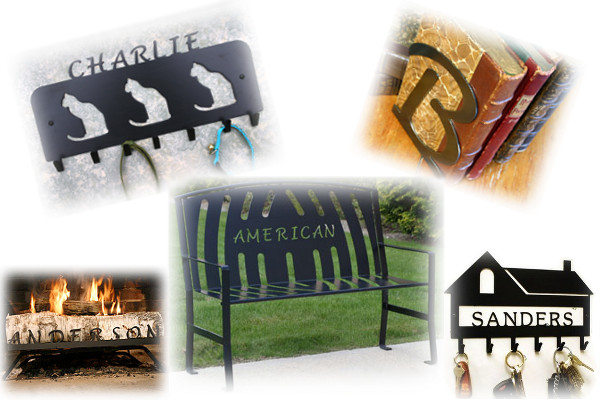 How To Show You Care With Custom Personalized Products
Personalized products by their very nature, are a unique visual expression. In a world of round pegs, it has become important to be able to distinguish yourself in different ways. One way that can be effective is visually, through items that contains your name or an idea, that expresses pride in yourself as an individual, your family, or your business.Shopping for your personalized products should be a pleasurable experience, with enough of a selection of fine and unique products available to you for decorating and organizing your home or to give as a gift. Personalized products can be the perfect piece for your home, pet need, or gift for someone special.
What makes a good personalized product
A good personalized product should enable you to have a custom design with your name or custom text created to your exact specifications. Here at WroughtWorks, your piece will be meticulously created using plasma cutting technology, a process which uses ionized gas to create fine, beautifully decorative designs. The outcome is a precise rendering of what you have envisioned and ordered, something you would be proud to own or to give to someone special.Understanding that what matters to you is quality, workmanship and durability... your personalized piece needs to be nothing less than flawless. Additionally, if you are looking to find items that feel more personal...whether it's for your own use or for showing friends and family that you value them on a more personal level, you should have a wide array of choices as well as excellent value.When you are choosing an item for both its beauty and functionality, look for items that are designed with these ideals in mind. When giving a gift it should contain an element of something personal, as well as being expressive. In today's fast-paced world...value is found in personalized items that make life easier and better. Something that is well-made and useful, as well as beautiful.
Examples of personalized products
Some great examples of useful and practical personalized products that are available, include things that invite people into your home, such as door plaques, rust-resistant steel door mats, mailbox nameplates that help others to find your residence....other examples include, attractive items for your home's lawn & garden. You can also choose trivets, wine-racks, bookends, poker card guards, back scratchers, and bottle openers, which add convenience and style and are wonderful to give as gifts.
Personalized pet products
Your pets have always been considered to be a part of your family, yet it is only recently that the availability of specialty and personalized products have increased for them and for you as their owners. Realizing how important your pet is to you, by having a large selection of unique, practical and decorative items, is another way to enhance your life, the life of your pet and would also be appreciated by other pet owners that you know. Products to help keep your pet's belongings and necessities organized, or to celebrate welcoming a new puppy or kitten into your home and family, are available in many choices and styles.Other examples of ways personalized products can be used to show pride of ownership, include equestrian items such as a nameplate, so you can personalize your horse's stall...as well, you could also have one made to add some personalization of your doghouse.
Personalized wedding gifts
Your giving of a personalized wedding gift can be a very special way to help a new couple celebrate their newly established union, as well as being appropriate for reminding a couple on their anniversary of how special their lives are together as one...and of the pride they have in their shared name. Personalized gift-giving has become one of the highest expressions that you can give to someone to show you care. Receiving a gift that shows you that another person cares enough to choose something special for you, can make your day...and also shows you that someone took time out of their day to remember you.
Browse all personalized gifts.
Share: