Wrought Iron Production
Wrought Iron Production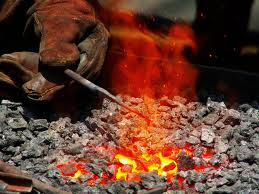 Wrought Iron Production
The production of wrought iron or steel is a process containing two main stages. The first stage is to produce pig iron from iron ore in a blast furnace. Alternatively, it may be directly reduced. The second is to make wrought iron or steel from pig iron by puddling a further process. Commercially available iron is classified based on purity and the abundance of additives. Pig iron has 3.5-4.5% carbon content and contains varying amounts of contaminants such as sulfur, silicon and phosphorus. Pig iron is not a salable product, but is an intermediate step in the production of wrought iron, steel and cast iron from iron ore. Wrought Iron was created from pig iron using innovative production systems during the Industrial Revolution in Britain. In 1783 Henry Cort patented the process for refining iron ore. It was later improved by others including Joseph Hall. Pig iron is not pure iron, it has 4.5% carbon dissolved in it with small amounts of other impurities like sulfur, magnesium, phosphorus and manganese. As the carbon is the major impurity, the iron (pig iron) becomes brittle and hard.
Wrought Iron objects of great age are much rarer than objects made of gold or silver.
Wrought Iron is a tough, malleable product. The malleability(ability to be shaped of formed without breaking) of iron depends upon its carbon content: the higher the percentage of carbon, the less malleable it is. Wrought iron contains less than 0.25% carbon. Steel contains up to about 2% carbon. Wrought iron corrodes much less rapidly than mild steel which makes it ideal for gates, fences and other wrought iron decor that will last in an outdoor environment. Wrought Iron is much harder and more durable than bronze and for this reason has a distinct advantage over bronze in warfare implements. Wrought Iron is used extensively by blacksmiths for traditional "wrought iron" products.
Share: